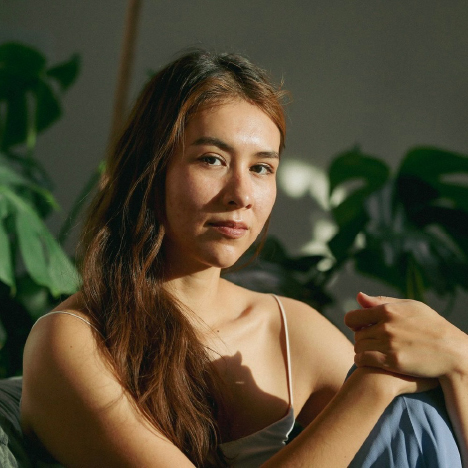 Shaandiin Tome is a filmmaker based in Albuquerque, New Mexico. Her breakout, award-winning short film Mud (Hashtł'ishnii) premiered at Sundance Film Festival in 2018, with foreign debut showings worldwide elevating her as a writer/director. Shaandiin returned to Sundance in January 2022, co-directing 'Long Line of Ladies,' a short documentary where it was premiered. The short film was bestowed with the 'Documentary Shorts Jury Award' at SXSW.
Shaandiin is listed as one of Marie Claire's Top 21 Creators to Watch in 2022, for her artistry and work in film. The University of New Mexico chose her as the recipient of the James F. Zimmerman award for 2022. She has directed multiple narrative-shifting short documentaries. Her work spans brand companies such as Alterra Mountain Company, Vox, Levi's, Vice, and Brooks, as well as media organizations PBS, National Geographic, and ESPN.
Her narrative projects have been selected for the Sundance Creative Producer's Fellowship 2019, Sundance Talent Forum 2020, and Sundance/OneFifty/WarnerMedia's Indigenous Intensive Fellowship 2020. She was selected as a finalist for the Rolex Mentor and Protégé Arts Initiative with Spike Lee. Currently, she is a part of the 2022 Adobe Women's Fellowship, a distinction she first captured in 2021.
She has taught film editing and post production to foreign students traveling abroad. A New Mexico State Legislature joint memorial was enacted that recognized her achievement in film. New Mexico Magazine featured her saying, "Tome takes capable command of her set, capturing stark imagery and memorable performances."Her cross-cultural experiences allow her to collaborate with other trailblazers in capturing untold stories among the Indigenous community, both as a director and cinematographer. She aims to bring resonating imagery in a blend of convergence with story, illustrating her perspective as a Diné woman. She is represented commercially through Ecstatic Static and Sanctuary Content. Film/TV through Curate.
Film & Digital Arts Featured Alumni